Toyota RAV4 Warning Lights
---
Select Your Model Year...
Choose the appropriate model year for the Toyota RAV4 you are trying to find the warning lights for from the list below.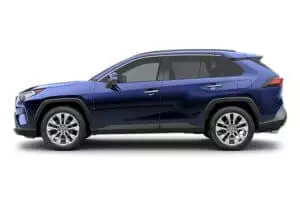 About the RAV4
The Toyota RAV4 gave birth to the crossover SUV segment of the automobile industry.
It was the first model that used a road-going car chassis with an SUV-like body on top.
At first, it was a very utilitarian model with limited comfort and safety features with a very simple design.
The first RAV4 was produced in 1994, narrowly beating the Honda CR-V to becoming the first of its type.
Classed officially as a compact crossover SUV, eventually (due to popularity) there would be larger and smaller varieties of this body style introduced.
Toyota themselves introduced subcompact versions (the Corolla Cross and the C-HR) a mid-size model (the Highlander) as well as a full-size one too (Land Cruiser).
To create the original RAV4 the Japanese automaker took the Corolla chassis and strengthened the suspension for the heavier body.
This led to a relatively cheap to make and easy to maintain a platform for the car - paired with smaller, more economical engines this turned out to be a massive win.
Over the years since this compact crossover SUV was introduced, it has evolved many times to become the popular model it is today.
Toyota focused on improving the vehicle's comfort and safety features along with adding a much more stylish exterior.
These changes paid off as sales of the RAV4 have continued to climb year-on-year ever since.
The move into the fifth generation in 2018 saw the introduction of a digital instrument cluster onto the dashboard.
This new in-depth hybrid screen/gauges system relays a more descriptive explanation of the problems the car is experiencing.
Doing this has made it easier for drivers to understand the warning lights and respond quickly to potentially dangerous situations.
Sometimes though this system doesn't explain how you need to react and so this website can fill in those gaps.