Toyota RAV4 Warning Lights
---
You can find 28 popular Toyota RAV4 warning lights and symbols on this page that when clicked take you to a detailed description.
Symbols Index
(click for more information)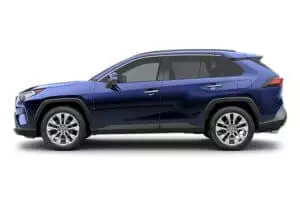 About the RAV4
Toyota RAV4 warning lights are important to know about because you want to avoid getting stranded on the side of the road or if your car is in an accident.
There are three important RAV4 warning lights: the brake light, the ABS light, and the oil light.
The brake light will blink when there is a problem with your brakes; this could be due to low fluid levels, warped rotors, or other problems.
If your ABS (anti-lock braking system) is blinking then it means that there might be a fault code stored in memory that needs to be resolved by qualified personnel for safety reasons.
The important third type of RAV4 warning is the oil symbol, this indicates low engine oil levels which need immediate attention.
History of the RAV4
This Toyota RAV4 was introduced in 1996 with the intention of becoming the most fuel-efficient SUV on the market.
The RAV4 has had many different changes over the years, but one thing that remains constant is its sheer power and performance.
Toyota pushed the bits that work best with the RAV4 and continue to increase the sales year on year.
Instead of a heavy offroad-capable chassis underneath the car, it employs a normal road-going cars setup to reduce weight and running costs.
To create the RAV4 Toyota took the chassis from the Corolla at the time, a massive seller for the Japanese manufacturer.