Toyota Land Cruiser Warning Lights
---
You can find 28 popular Toyota Land Cruiser warning lights and symbols on this page that when clicked take you to a detailed description.
Symbols Index
(click for more information)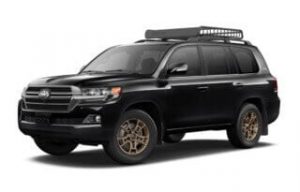 About the Land Cruiser
The Toyota Land Cruiser is a popular SUV in many countries, especially the United States.
This vehicle has a variety of warning lights that will signal to you when there is an issue with your engine or other parts of your car.
It also shares its platform with the Tundra, a highly off-road-capable pickup truck from the same Japanese automaker.
On this page, we'll be going over the warning lights and what they mean for your car's health.
Common Warnings
There are a few warning lights that you will likely encounter at some point in time with this vehicle. These include but are not limited to:
ABS and VSC Warnings
This is generally caused by improper braking and can lead to serious consequences in terms of your stability and safety on the road.
Stability control systems are a great way to prevent loss of control of the vehicle during turns and braking.
These systems work to correct any irregularities in the vehicle's path by applying braking force at individual wheels.
These systems are often paired with anti-lock brakes which allows for better braking performance in various conditions.
Low Fuel Warnings
On the dashboard of your Land Cruiser, there is a gas gauge that displays the level of fuel in the car.
It should also show an "E" on the display after it gets to less than 1/4 tank. This is to inform you to refill as soon as possible.