Toyota Corolla Cross Warning Lights
---
You can find 28 popular Toyota Corolla Cross warning lights and symbols on this page that when clicked take you to a detailed description.
Symbols Index
(click for more information)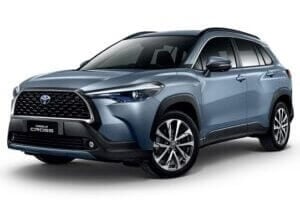 About the Corolla Cross
The Toyota Corolla Cross warning lights are designed to show the driver when there is a malfunction in the vehicle.
They appear on the dashboard and may be accompanied by an audible alarm.
These malfunction indicators serve as warnings that should not be ignored, no matter how minor they seem at first glance.
Let's take a closer look at what these warning lights mean and what you should do if you see them.
This SUV is based on the standard Corolla but with a taller body on top for increased headroom and storage space.
Common Warning Lights
The Corolla Cross has a number of warning lights designed to indicate problems with the vehicle.
These lights come on in various combinations and colors to indicate specific issues.
Corolla Cross warning lights indicate an issue with the oil, coolant, seatbelt, brake, low fuel, or more serious engine problems.
Warning lights may also signal a problem with the anti-lock braking system or the automatic transmission.
Check your owner's manual for specific instructions on how to proceed based on what that particular light indicates.