Toyota C-HR Warning Lights
---
You can find 28 popular Toyota C-HR warning lights and symbols on this page that when clicked take you to a detailed description.
Symbols Index
(click for more information)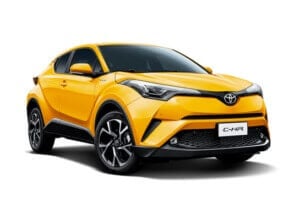 About the C-HR
The Toyota C-HR warning lights are a great way to keep you aware of what is going on with your vehicle.
They can alert you when there is something wrong, or provide information about the fuel left in the tank.
However, many drivers don't know how to identify all of these different warning lights.
This page will break down the meaning of each type and help make sure that you never have an issue with them again.
If you drive a Corolla then the symbols are the same as the C-HR is based on its chassis.
Low Tire Pressure Warning
A low-pressure sensor will activate when the vehicle's tires are running on tires with less than 18psi or when they are flat.
It is important to get the tires in your C-HR reinflated as soon as possible.
If the warning light remains illuminated then you may have a faulty sensor/s.
Brake/ABS Warning
The ABS warning light is a system that checks for the brake fluid and then lights up when there is a problem with the brakes. It will turn on for about 20 seconds and then shut off again. If it continues to stay on, this indicates that there is a more serious cause.
Battery Warning
If the battery warning light comes on, it means the car's battery is low. Check all of the following things before deciding if you should call a tow truck:
The lights are on and do not turn off after a few seconds
Intermittent power or no power at all
The engine will not start