Toyota Mirai Warning Lights
---
Select Your Model Year...
Choose the appropriate model year for the Toyota Mirai you are trying to find the warning lights for from the list below.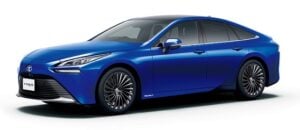 About the Mirai
The name "Mirai" translated directly from Japanese means "future," and for many, the Toyota Mirai still represents the best hope for a sustainable automotive future outside of battery electric vehicles that may still depend on fossil fuels for charging. The car was launched in 2014, but to date there are only about 18,000 units on the road worldwide.
What makes the Mirai unique is that it is a hydrogen fuel cell vehicle (FCV), and in fact was one of the very first of its kind to be ready for mass production. It's built as a 4-door sedan, either with a FWD or RWD layout depending on the position of the electric motor. It's not the cheapest sedan on the market, however, with a starting price in 2022 of $50,525.
One of the reasons expansion of sales has been slow is due to the limited number of hydrogen fueling stations that exist outside of California. It is therefore rare to see one outside of that state in the US, and even outside of Japan. They are on sale in several European countries as well, but the same limited number of hydrogen stations limits sales and attractiveness.
One interesting incentive that has been put in place in California by Toyota is the provision of a $15,000 fuel credit with every purchase, as well as 21 days or free vehicle rental cover if you have to drive outside of California to locations where you can't fuel the Mirai.
The car itself already covers 2 generations, the first reaching a range of 312 miles on a full tank of hydrogen fuel, equating to about 66-mpg in fuel economy. The second-generation models manage an impressive 845 miles with a full tank (5.65kg) of hydrogen.
The interior of the Mirai is very sleek and attractive, with a large central infotainment screen and an all-digital instrument cluster on the latest versions. The higher-end Limited trim adds a moonroof, tri-zone climate control, and heated/ventilated seats.