Toyota Highlander/Kluger Warning Lights
---
You can find 8 popular Toyota Highlander/Kluger warning lights and symbols on this page that when clicked take you to a detailed description.
Symbols Index
(click for more information)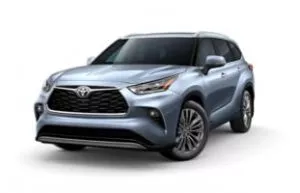 About the Highlander/Kluger
It's always a good idea to check your Toyota Highlander's dashboard before starting the engine.
If you see any warning lights lit up, it means there is something wrong with your vehicle.
The car shares its GA-K platform with the Avalon and RAV4 so you will find the same dashboard symbols in those cars too.
Common Warning Lights
If the oil light is on, it means there's low or no engine oil. You should immediately turn off your vehicle and call a Toyota service center to check the issue out.
The coolant warning light alerts you that your car might overheat if you don't shut off its engine right away.
The same thing goes for brake fluid, battery, and transmission lights.
The airbag malfunction light means there's a problem with the car's safety system which you should inspect as well.
Some other warning symbols you might come across include: check engine, service soon or parking brake – all of them require immediate attention from an authorized Toyota dealer.
All of these lights are important and if lit up they require immediate attention from a certified mechanic or at least an inspection by yourself.