Chevrolet Trailblazer Warning Lights
---
Select Your Model Year...
Choose the appropriate model year for the Chevrolet Trailblazer you are trying to find the warning lights for from the list below.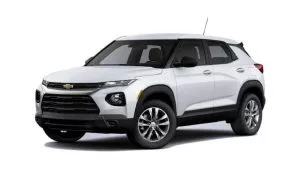 About the Trailblazer
When the Trailblazer name was first used by Chevrolet back in 1998 it was as a trim on the Blazer model.
It was a higher-level trim for the compact SUV that included a CD player and color-coded bumpers.
For the 2002 model year, the Trailblazer became its own line with the American automaker for the first time.
Much like the Blazer model it was offroad capable, a feature that manufacturers of automobiles felt was important back then.
What separated it from the Blazer though was the fact that it was a mid-size SUV, being about 10% larger.
It was based on the GMT360 platform that was also used under the GMC Envoy, Saab 9-7X and the Oldsmobile Bravada.
The original Trailblazer featured 5-doors, four-wheel-drive and an optional air-powered suspension leveling system.
It was powered by one of four possible engines, ranging from a 4.2-liter V6 through to a 6-liter V8 - all running on gasoline.
During a big reshuffle around 2008 (caused by the global recession) the company decided to discontinue the Trailblazer in the USA.
Instead, they introduced a new range of crossover SUVs that used existing normal road-going car chassis' that would be much more economical.
This proved to be the correct way to move with running costs spiraling for Americans and many countries around the world.
The Buick Enclave and the Cadillac SRX were brought in to replace the Trailblazer line.
A second-generation Trailblazer did come about for markets such as Mexico and Brazil in 2011 which was based on the Colorado pickup truck.
For North America, they would have to wait until the 2021 model year when the crossover SUV version of the Trailblazer would be introduced.
The Trailblazer Crossover SUV
This new model bearing the Trailblazer name was now classed as a subcompact crossover SUV and sat on the same platform as the Buick Encore.
Chevrolet has sized it in between the Trax and Equinox crossover SUV models with much smaller engines on offer than before.
Gone are the V6 and V8 options and instead buyers can choose between a 1.2-liter or 1.3-liter engine with both sporting a turbocharger.
Mated to these engines is a 9-speed automatic transmission to help convert that power into hard acceleration or smooth top-end speed.