Chevrolet Trax Warning Lights
---
You can find 27 popular Chevrolet Trax warning lights and symbols on this page that when clicked take you to a detailed description.
Symbols Index
(click for more information)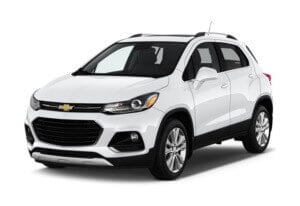 About the Trax
Chevrolet Trax warning lights are used to alert the driver of a potential problem with their vehicle.
This page will explore what each light means and how you can troubleshoot any problems at home before contacting your Chevrolet dealer.
You can also use this guide if you own a Buick Encore as the car shares its platform and is almost 100% mechanically similar.
The following are the common warning lights you might see in the Trax:
Check Engine Light
This light comes on when there is a problem with the engine or transmission.
Usually, this is just an indication that something needs to be serviced, but it could also be an indication of a major problem such as overheating or loss of oil pressure.
Airbag Restraint System Warning Light
If this light comes on, it means the airbags in your Trax might not work properly.
Take it to a Chevrolet dealership immediately so they can check for any problems with the safety systems of your car.
Oil Pressure Warning Light
This light warns you when there is an issue with oil pressure within the engine.
If this warning light comes on, you should stop driving the Trax immediately and find a safe place to park it.
It's also recommended that you shut off the engine when this warning light is on.
If the oil pressure in your Trax drops too low or if there are no oil pressures at all, then severe damage can occur which could lead to an engine failure.