Chevrolet Equinox Warning Lights
---
You can find 8 popular Chevrolet Equinox warning lights and symbols on this page that when clicked take you to a detailed description.
Symbols Index
(click for more information)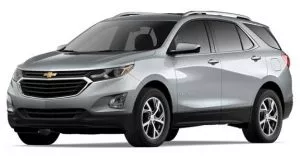 About the Equinox
You're driving along and all of a sudden, your Chevrolet Equinox warning lights start flashing.
A car that shares its GM Theta platform with the Cobalt compact car from the same American carmaker.
You've heard about these warning lights before but you don't know what they mean.
Here's a quick guide to the most common Chevrolet Equinox warning light messages:
Low tire pressure
Check your tires for low air pressure, if they are already sufficiently inflated then you may have a faulty sensor.
Low coolant level
In order to avoid damaging your car, check your dashboard warning lights for warnings about low coolant.
If you have a warning light that indicates a low coolant level or a boiling coolant, then be sure that the coolant is topped off and replaced with what is recommended for your vehicle.
Brake fluid needs attention
Different drivers experience low brake fluid in different ways.
If you have a problem with the brake pedal going all the way down to the floor, you probably have an issue with the fluid.
In some cases, this is very dangerous and they should stop driving immediately to prevent an accident from happening.
These problems can be a result of a leak or a faulty pump in one area of the engine or another.