Chevrolet Blazer Warning Lights
---
Select Your Model Year...
Choose the appropriate model year for the Chevrolet Blazer you are trying to find the warning lights for from the list below.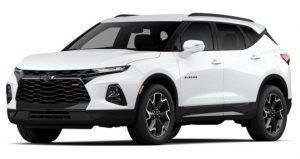 About the Blazer
There are a few warning lights that can come on regularly in your Chevrolet Blazer.
These include the Anti-Lock Braking System (ABS) light, Cruise Control Indicator Light, Check Engine Light, Low Fuel Warning Light, and others.
It is important to know what these lights mean because they signal when there may be an issue with your vehicle.
The following page will go over each of them in detail so you can understand how to handle them appropriately.
This Chevrolet Blazer was first introduced in the year 1992. At that time, it was a two-door SUV with a removable top and a side door.
The Blazer had a sporty and rugged look to it, but without the high price tag of other large SUVs.
It was well-known for its off-road capabilities, but also had an impressive list of safety features as well.
The Blazer's sleek exterior design made it one of the best cars in terms of looks and performance that you could find at this time.
It featured a simple yet intriguing look with round headlights and large fenders which helped to give it a tough appearance.
The Blazer was available in either a two-door or four-door body style to suit your needs.
Later on, the Chevrolet Blazer received several updates to make it even better than before by adding more amenities and safety features.
This newly updated version of the SUV now shared its platform with the luxurious GMC Acadia from its parent company.
These were added in an attempt to keep up with their competitors who had also made some changes to their SUVs.