Chevrolet Express Warning Lights
---
Select Your Model Year...
Choose the appropriate model year for the Chevrolet Express you are trying to find the warning lights for from the list below.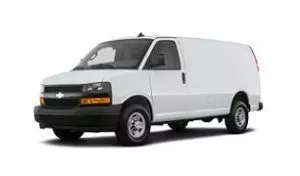 About the Express
The Chevrolet Express is a series of full-size vans that have been produced by General Motors since 1995. Since its release, there have been a total of only two generations. The latest of these was released in 2003.
It has had various shapes over the years. These have included a 2-door cutaway van chassis, a 4-door cargo or passenger van, and finally a 5-door cargo or passenger van. These have been dropped down to only the cargo and passenger variants in the more recent models.
Like most General Motors models, there is also the rebadged GMC Savana, which shares a huge number of mechanical components with the Express. It faces the most amount of competition from the ever-popular Ford Transit.
Chevrolet offers various models along with the various additional trim levels. These are designated as the 1500, 2500, and 3500. These were later downsized to only include the 2500 and 3500 models in the regular and extended wheelbases.
The trim options are now limited to only a single option for the cargo variant and two levels for the passenger van. These are the base WT, and the LS and LT trim for the cargo and passenger vans respectively.
Engines have changed significantly over the years. The latest versions consist of either a petrol 4.3-liter V6 or 6.6-liter V8 and a 2.8-liter Duramax inline-4 turbodiesel. Older models include various engines ranging from the 4.3-liter up to a huge 8.1-liter V8.
Transmissions consist of a 6-speed heavy-duty automatic and an 8-speed automatic gearbox. There are two different 8-speeds for the petrol and diesel engines.