Chevrolet Onix Warning Lights
---
Select Your Model Year...
Choose the appropriate model year for the Chevrolet Onix you are trying to find the warning lights for from the list below.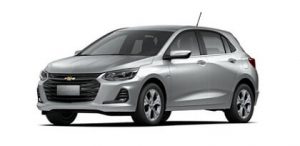 About the Onix
Chevrolet is renowned for its excellent muscle cars, and they rarely step out of their comfort zone. As such, the announcement of the Onix, a subcompact sedan, was a shock and a surprise to many. It faces tough competition, such as the more recent examples of the Hyundai Accent and Nissan Versa, and attempts to keep up with such cars by offering great performance for a good price. The Onix certainly delivers good power and straight-line speed, making the car a great choice for anyone who prefers speed over tech. However, the model feels overall unrefined and the cabin, in particular, fails to impress.
The star of the show with the Onix is undoubtedly the engine. All examples from 2019 onwards, come equipped with a 1.0-liter, 3-cylinder engine as standard. This might not seem like much, but there's also a turbocharger, and the Onix is very light, so the power to weight ratio is actually pretty good. As such, the Onix is one of the fastest subcompact sedans on the market, and a great choice if you're looking for outright speed.
However, the engine is where the praise for the car stops. The first disappointment comes by way of the suspension. This feels far too firm and makes the Onix very uncomfortable to a point where you'd probably prefer to walk to your destination!
The handling is equally disappointing. Whilst the steering does feel light, it's also inaccurate and sluggish, which makes the Onix pretty poor through corners. Body lean is also a big problem.
The Chevrolet Onix is also unreliable compared to competitors made in Europe. So, you can expect the warning lights to pop up frequently. This is a bigger issue with the older 2013 model, but the 2019 version is still unreliable.