Chevrolet Tahoe Warning Lights
---
You can find 27 popular Chevrolet Tahoe warning lights and symbols on this page that when clicked take you to a detailed description.
Symbols Index
(click for more information)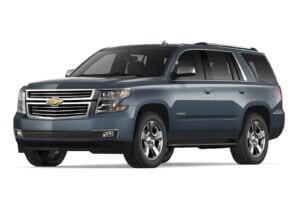 About the Tahoe
The Chevrolet Tahoe is a large SUV that can seat up to eight people.
It has many safety features, including warning lights for brake problems, low oil pressure, and more.
This page will show you how to identify the different warning lights on your Tahoe so you can take care of any potential issues before they become dangerous.
Some of the most common warning lights you will find in this car include:
Brake system warning light
A yellow brake system warning light can mean that your brake fluid needs to be refilled or you have a leak in the system.
If you see a red brake system warning, it means you've lost all of your brake fluid.
If this happens, you will need to pull over immediately and call for roadside assistance before attempting to drive any further.
These types of warning lights are extremely important and should not be ignored under any circumstances.
Low oil pressure warning light
The low oil pressure warning light can be accompanied by an audible message telling you to check your oil level.
If you see this warning light, it is time to get the oil checked in your Tahoe.
Engine cooling problem warning light
If you see this warning, you should turn off the car and call for assistance.
There are also other issues that can show up in this light including overheating or low coolant level warnings.