Jeep Wrangler Warning Lights
---
Select Your Model Year...
Choose the appropriate model year for the Jeep Wrangler you are trying to find the warning lights for from the list below.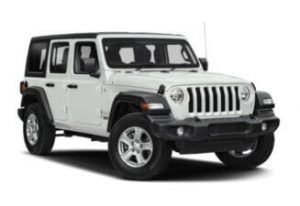 About the Wrangler
The Jeep Wrangler is an off-road SUV that is incredibly stylish and reminds many drivers of the old WWII Jeeps. The Wrangler is overall an excellent off-roader, with modern technology, strong performance and excellent looks. It does fall short against more premium models, such as the Kia Telluride, however.
Standard Wrangler's come with a 3.6 litre V6 that produces 285 horsepower. This is a great choice, but there are some more powerful options available, such as a 375-horsepower hybrid. The base model will accelerate from 0-60 in 6.1 seconds, which is a little faster than many of the Jeeps rivals.
One downside of the Wrangler is its lackluster performance. Not only does the suspension feel outdated and far too soft, but the handling is incredibly heavy. In fact, it can feel as if you're driving a truck at times, especially in tight corners. There are certainly better handling models out there, like the Kia Telluride.
Inside the cabin, the Wrangler continues the retro theme, and it looks great overall. There's plenty of visibility, in the back as well as the front, and there's also more than enough room for both the driver and 4 passengers. Couple this with a big boot, and the inside of the SUV is a great place to be. It also feels incredibly sturdy and solid and not at all cheap, which many Jeeps' do.
The Wrangler also offers a great array of infotainment. This is highly customizable. For instance, you can choose from 3 touchscreens, as well as a selection of great gadgets, from cruise control to parking sensors. This enhances the practicality of the big car.
There are also some great safety features. For instance, the Wrangler comes with blind-spot monitoring and rear-cross traffic alert. This will help to keep you and your passengers safe.