Chevrolet Cobalt Warning Lights
---
Select Your Model Year...
Choose the appropriate model year for the Chevrolet Cobalt you are trying to find the warning lights for from the list below.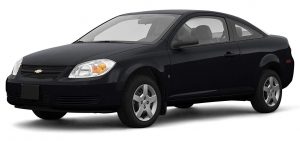 About the Cobalt
The Chevrolet Cobalt only had a short-lived existence in the North American automobile market.
It ran from the 2005 model year through to 2010 in the USA but in 2012 it reappeared in South America.
General Motors decided to revive the model and start producing it in their Brazil assembly plant for the domestic market.
During its time as a North American line, it was also sold by a partner brand Pontiac as the G4, the G5 and also as the G5 Pursuit.
It sat on the same shared Delta platform as the Opel Astra and the Chevrolet Equinox - a mix of compact and compact crossover SUVs.
Safety-agency HTSA rated the Cobalt pretty well with many 4 and 5 out of 5-star ratings across the board apart from in the event of a side collision where it rated "poor".
Eventually, the car was replaced by the Cruze in North America which was based on the newer Delta II platform.
The second-generation model was only available in Brazil and was built on a totally different platform called the Gamma II.
This was slightly bigger and was the same that was used under the Opel Mokka and the Chevrolet Trax.
Warning lights and dashboard symbols built into both generations are relatively the same as they used similar platforms.
You can learn about the meanings as well as how to react to them using the cross-referencing guide on this website.
In 2013 this Cobalt model was imported into Russia for 2 years, manufactured in a plant in Uzbekistan.
Then in 2020, the line was discontinued with various other models taking over for each of the regions it was being marketed in.