Chevrolet Cobalt Warning Lights
---
You can find 8 popular Chevrolet Cobalt warning lights and symbols on this page that when clicked take you to a detailed description.
Symbols Index
(click for more information)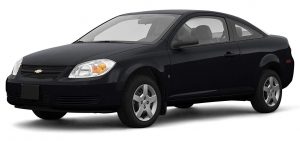 About the Cobalt
On this page, we will discuss the different warning lights on a Chevrolet Cobalt and what they mean.
It was a popular compact car from the American automaker and was eventually replace by the Cruze.
The first light is the check engine light which can be triggered by a problem with one of your car's emissions systems or other components.
This article will also talk about some common causes for this warning light to come on as well as how to fix it.
The common Cobalt warning lights are the battery light, brake light, seat belt light, and oil change light.
When you turn on your engine and the battery light is on (in front of the driver on the dashboard), there is a problem with your car's electrical system.
If your brake light is on, it means that the brakes in your Chevrolet need looking at and maybe even replacing.
If your seat belt is not fastened when you start driving, the seat belt warning will illuminate on the dashboard.
If you notice this, make sure to fasten your seatbelt before continuing to drive, it's an important safety feature in the Cobalt.
The oil change light will illuminate if you haven't changed the oil in over 7500 miles or for more than 10 months. If you don't get it changed in time, there