Opel/Vauxhall Mokka Warning Lights
---
Select Your Model Year...
Choose the appropriate model year for the Opel/Vauxhall Mokka you are trying to find the warning lights for from the list below.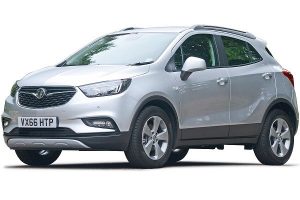 About the Mokka
The Mokka is a subcompact crossover SUV by Opel, or Vauxhall depending on where you live. There is even a North American version in the Buick Encore.
The Mokka came onto the market in 2012 as it entered the fiercely competitive compact crossover SUV class.
Like many subcompact crossovers, the Mokka features a front-mounted engine in a variety of sizes with front-wheel or four-wheel drive. It also has the stable of many crossovers - five doors.
The first-generation Mokka received a facelift in 2017, becoming the newly named Mokka X. The facelift featured a new design for the headlights and bumpers. It also brought about new LED taillights and a new interior.
The Mokka rivals some of the other smaller competitors in the crossover SUV category, namely the Volkswagen T-Cross. It also goes up against the Peugeot 2008, although they are both owned by PSA Group, now Stellantis.
It is also seen as the smaller sibling to the likes of the Opel Crossland and Opel Grandland, having less in terms of power and comfort features.
The engine configurations have been similar to that of many of the smaller crossover SUVs. Powertrain offerings have been 5-speed manual or 6-speed manuals or automatic transmissions coupled with engines ranging from 1.4-liter to 1.8-liter petrol and 1.6-liter to 1.8-liter turbodiesel.
Under PSA Group's leadership, a second generation of the Mokka came in 2020. This included an updated exterior look, as well as a new turbocharged 1.2-liter 3-cylinder petrol engine and a 1.5-liter 4-cylinder turbodiesel.
The Mokka-e was introduced as part of the second generation in 2020. The Mokka-e is another crossover SUV, this time as an all-electric counterpart powered by a 50 kWh lithium-ion battery.