Opel/Vauxhall Astra Warning Lights
---
Select Your Model Year...
Choose the appropriate model year for the Opel/Vauxhall Astra you are trying to find the warning lights for from the list below.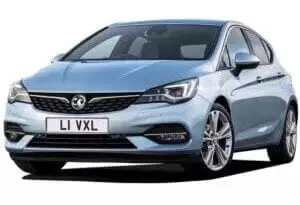 About the Astra
First introduced in 1980, the Vauxhall Astra has been the company's go-to compact family car.
The Astra has been sold under both the English Vauxhall brand, as well as the German brand Opel. While the German brand started producing the Astra 11 years later in 1991, both cars are all but identical.
Along with multiple generations, the Astra has seen so many varied configurations it is almost hard to count.
These typically include engines ranging from 1.2-liter to 2-liter engines in both turbodiesel and petrol. Further still, the Astra has come in every configuration between two- and five-door.
Despite the different packages available, the Astra has always been a front-engine, front-wheel-drive car.
Due to the huge popularity of hatchbacks over the last few decades, the Astra was conceived to go up against the likes of competitors like the Volkswagen Golf and Ford Focus, putting it just out of reach of the higher-end Audi A1 and BMW 1 Series.
The Astra has seen numerous generations over the years, currently sitting on its eighth iteration as of 2022.
They also boast sports versions, under Opel as the Astra OPC and Astra GTC. These hot hatches featured more aggressive styling and turbocharged 2-liter direct injection engines.
In 2017, the seventh-generation Astra saw a huge winning streak, being dubbed Car of the Year across 13 different countries. This comes as no surprise when considering the modern facelift that the Astra received.
The eighth-generation Astra joins the countless manufacturers to offer a hybrid powertrain. This is compliments of Vauxhall's cousin, Peugeot, as it shares the same powertrain seen in the new Peugeot 508.