GMC Acadia Warning Lights
---
You can find 8 popular GMC Acadia warning lights and symbols on this page that when clicked take you to a detailed description.
Symbols Index
(click for more information)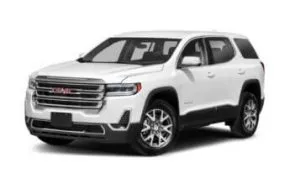 About the Acadia
The GMC Acadia has a number of warning lights built into it that you can use to keep your vehicle running smoothly.
You can also use this guide if you own a Chevrolet Traverse as both cars are almost 100% the same mechanically and electronically.
Paying attention to these lights will help you find any potential problems before they become larger, more expensive fixes.
Here are the warning lights on the dashboard and what they mean:
The Tire Pressure Monitoring System
The tire pressure monitoring system is designed to warn drivers when the vehicle reaches a tire pressure that is too low for driving safely.
This system will cause the dash lights to illuminate and one of them will blink, signaling to you that you should pull over and check your tires for damage and leaks. The blinking light will continue until the problem is fixed and then turn off.
Coolant Temperature Warning Light
The GMC Acadia also has a coolant temperature warning light to tell you if the engine is running hot. If this light comes on, stop your vehicle as soon as possible and turn it off. Open the hood and wait until the engine has cooled down before looking for leaks or other problems.
Oil Pressure Warning Light
The Oil Pressure Warning Light flashes to let you know that the oil pressure is too low. If this light flashes, your engine may not be lubricated adequately and it can cause damage. To fix this problem, turn off the vehicle and wait until the engine has cooled down before replacing any faulty parts.