Chevrolet Traverse Warning Lights
---
You can find 27 popular Chevrolet Traverse warning lights and symbols on this page that when clicked take you to a detailed description.
Symbols Index
(click for more information)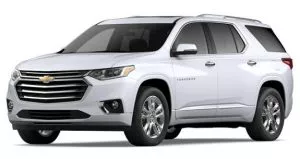 About the Traverse
One of the most frustrating things for drivers is when they're driving down the road and their dashboard lights start to flash.
These are warning lights that usually indicate some sort of problem with your vehicle, but what does it all mean?
This page will go into detail about Chevrolet Traverse warning lights so you can have a better idea of how to handle them.
You can also use this guide if you drive a GMC Acadia or a Buick Enclave as the cars are almost 100% identical.
The main difference between those 2 models and this Traverse is the level of luxury and features you can expect as standard.
Owners of a Chevrolet Traverse with a push-button start may have noticed an indicator light on their key fob.
When you insert your key into the slot, the illuminated ring around the button will either spin or stay still.
The spinning indicates that the vehicle is running and driving normally.
If your key fob looks like it's not spinning at all, this could indicate a problem with your vehicle's battery or starter motor.