Select Your Model Year...
Choose the appropriate model year for the Audi Q3 you are trying to find the warning lights for from the list below.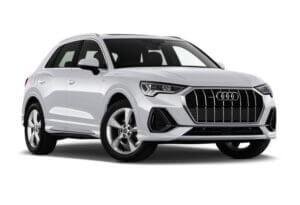 About the Q3
The Audi Q3 is a subcompact crossover SUV competing with the likes of the Volvo XC40, BMW X1 and X2, and the Mercedes-Benz GLA-Class. As you can imagine, that's a tough segment of market competition, but the Q3 holds its own very well.
The Q3 isn't the oldest model in Audi's now quite varied SUV range. It was first released for the European market back in 2011, but not for the North American market until 2015. The first generation of models ran from 2011 to 2018, and the second generation arrived in 2018.
Within the VW corporate family, the Audi Q3 has some connection with the Volkswagen Tiguan and the Skoda Yeti, sharing as they do the VW Group A5 platform. Like the smaller Q2, it is positioned as a kind of lifestyle SUV, as opposed to the larger and more family-friendly models like the Q5 and Q7.
In its latest form, the Q3 offers a nice list of standard features compared to earlier models, including standard blind-spot monitoring, rear cross-traffic alert, parking sensors and a newly designed interior trim with aluminum. Options include 8-way power front seats with memory function, auto-dimming exterior mirrors, and a built-in garage door opener.
The Q3 doesn't have the lowest starting price in its segment, but it's far from the most expensive, ranging from $37,595 for the base-level Premium 40 trim, to $43,195 for the top S Line Premium Plus trim.
Powertrains on the Q3 deliver up to 228-hp and are paired with an 8-speed automatic and Audi's flagship Quattro AWD program. The Quattro system in particular helps the Q3 handle like a smaller, sportier car, something that actually continues up the Q-Series line into the larger models.
The interior is both elegant and refined, even if not the plushest on the market. The ride quality is also superb thanks to very effective damping that eliminates all but the most challenging of road sounds.