Select Your Model Year...
Choose the appropriate model year for the Audi A8 you are trying to find the warning lights for from the list below.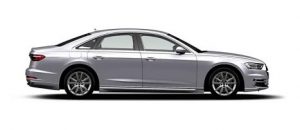 About the A8
The Audi A8 is a luxury sedan that has been on the roads since 1994. From its launch, until the latest model in 2022, the A8 has offered sublime performance, great style and great comfort for a very competitive price. It might not be as flashy as rivals such as the Genesis G90, but what it lacks in character, it makes up for in refinement. This car is ultimately one of the best luxury sedans on the market and will satisfy almost every driver's requirement.
The 2022 model has made some big changes over its predecessors. For instance, the styling has been changed and the new A8 features a different grill, altered bumpers and new wheel designs. The internals of the car has remained the same as the 2021 model, however.
Under the hood, the latest Audi A8 comes equipped with a V6 which produces 335 horsepower, thanks to the help of a turbocharger and a hybrid system. This engine allows the executive car to accelerate from 0-60 in just 5.3 seconds, making the A8 one of the quickest luxury sedans on the market.
The overall ride of the Audi A8 is nothing short of sublime. Air suspension comes as standard, which makes it feel as if it's gliding over the road. The steering is also sharp and agile, making the A8 feel incredibly athletic.
The Audi A8 is also renowned for its reliability. It may come equipped with some of the most advanced warning lights and systems on the market, but you'll probably never notice, as the likelihood of something going wrong in the A8 is very small. This ultimately makes it one of the most practical luxury sedans on the market.
There's plenty of technology inside too, like a touchscreen infotainment centre which comes as standard.