Select Your Model Year...
Choose the appropriate model year for the Audi A3 you are trying to find the warning lights for from the list below.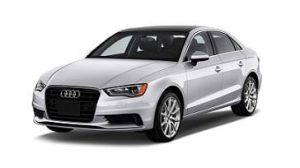 About the A3
Like many models in the crowd-pleasing Audi A-Series, the A3 has been around for many years, since 1996 to be precise. It started its production life as a hatchback model that was an enlarged version of the Audi A1.
There have been four generations of Audi A3 to date. The first two generations only included the hatchback version powered by a 1.6L inline-4 engine outputting up to 100-hp and 107 lb-ft of torque. Over the years, powertrains were improved to a 2.0L unit getting up to 217-hp and 258 lb-ft of torque.
The third generation also saw the arrival of a 4-door sedan model that is now most often the standard offering, especially in the North American market. The hatchback version remains popular in Europe, however. As with many of the Audi A-Series vehicles, the A3 spawned a high-specification S3 version, and eventually an even higher RS 3 variant.
The latest version of the A3 sedan starts at a relatively affordable $35,895, with the 2022 model year A3 in the US being a late-updated version that was released back in 2020 in Europe --- the fourth-generation model.
It can currently be bought in 3 trim levels: Premium, Premium Plus, and Prestige. The fourth-generation models include a greatly upgraded and modernized interior with all-digital instrument displays, faux-suede upholstery on supportive sports seats, brushed metal, fine wood, and piano black finishes combining into an elegant interior design, and more.
Drivers can now get up to a 12.3-inch infotainment unit, with the digital climate controls replaced with buttons and knobs again after some pushback from customers in previous models having a dual-screen setup with one digital screen handling all interior and climate controls.
The A3 forms a beautiful, sporty and dynamic compact alternative to the larger A4. For this reason, it's consistently popular with single white-collar executives who want the look without all the bulk.