Select Your Model Year...
Choose the appropriate model year for the BMW X2 you are trying to find the warning lights for from the list below.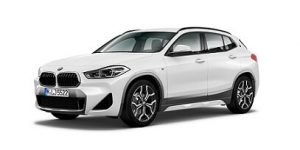 About the X2
The BMW X2 is a subcompact crossover, first released in 2018, which aims to fill the gap between the X1 and X3. This X2 features great handling, awesome style and a good range of engines, helping the car to stay competitive with top rivals, such as the 2017 Jaguar E-Pace and Volvo XC40. However, the X2 also features a very uncomfortable ride, and the cabin is one of the worst on the market at this price point. This car is overall a solid choice if you're looking for a reliable crossover, but there are better options out there.
Under the hood, the X2 comes equipped with a turbocharged four-cylinder engine as standard. This produces 228 horsepower and is more than enough for everyday driving. It'll even accelerate from 0-60 in 6.4 seconds, which is quicker than some competitors. However, the best thing about this engine is the fuel economy, which makes the X2 one of the most efficient cars in its class.
If you're looking for more power, the company does offer a 302 horsepower version, which will get to 60 in under 5 seconds, making the X2 quicker than the Mercedes-Benz GLA250.
The overall ride of the BMW X2 is very disappointing. The suspension is far too stiff, which makes the ride incredibly uncomfortable. This is even worse if you choose a sport variant, which can feel back-breaking at times. Luckily, the steering is sharp and accurate, but the suspension takes away from this.
The interior of the X2 is also fairly disappointing. There's a good level of tech, like efficient warning lights and a responsive 8.8-inch touchscreen as standard. However, the cabin isn't as stylish as competitors and doesn't feature as much cargo space or legroom for passengers. This damages the X2's practicality.