Select Your Model Year...
Choose the appropriate model year for the Audi Q5 you are trying to find the warning lights for from the list below.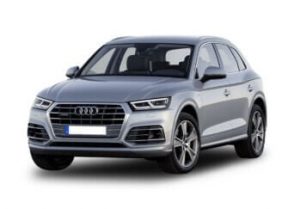 About the Q5
Audi's range of SUVs and crossovers have become a hugely popular and sought-after model type that even rivals its longstanding and iconic sedan series. The Audi Q5 is a compact luxury crossover, production of which launched in 2008 in time for the 2009 model year.
There are currently 2 generations of Q5 models, the first of which ran from 2008 to 2017, with a major facelift released in 2012. The current range was released in 2017, with updates including a long-wheelbase version in 2018, and a facelifted version released in 2021.
In its current form, the Q5 comes in a large range of trim levels, starting with the Premium 40 which starts at $44,495, and going all the way up to the Prestige 55 PHEV (plug-in hybrid) which starts at $65,145. The gasoline models in particular represent decent value in the luxury crossover market.
The current powertrain lineup includes a standard 4-cylinder unit with a turbocharger delivering up to 201-hp. If you purchase the higher-end 45 powertrain, you can get a boost to 261-hp. Fastest in the lineup is the PHEV variant which gets a 4.5-second time from 0-60 compared to 5.5 seconds on the regular 45 powertrain.
The interior is spacious for 4 adults, as well as quiet and comfortable on the road. Cargo space at 25.85 cubic feet is a bit disappointing where the BMW X3 gets more than 28, and the Jaguar F-Pace more than 31 cubic feet as standard. Upgrading to a Premium Plus or Prestige trim gets you the Audi Virtual Cockpit, but all of them are made with high-quality materials.
A facelift in 2021 provided more advanced Generation 3 Audi infotainment tech, as well as a new grille, side intake design, and revamped rear trim, side sill and bumper side. Two new exterior colors were added to the list, namely Ultra Blue and District Green.