Select Your Model Year...
Choose the appropriate model year for the Audi Q7 you are trying to find the warning lights for from the list below.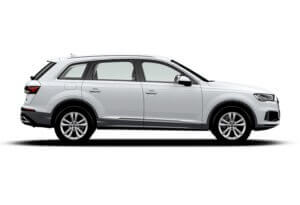 About the Q7
The Audi Q7 is actually one of the earliest arrivals to what is now quite a large and eclectic SUV selection in the Audi range. It's classed as a mid-size SUV, but is actually fairly large, but still smaller than the larger Audi flagship SUV, the Q8. The Q7 also comes with three rows of seats as standard, making it a very family-friendly choice, especially for those who don't want to drive around in a minivan.
The Audi Q7 competes in a tough market segment against the likes of the Porsche Cayenne, BMW X5, and Volvo XC90. There's a big market for luxury SUVs, and the Audi Q7 while not the most sumptuous on offer, is better priced than either the Porsche or BMW offerings. Its interior is comfortable, spacious and packed with great technology, while the materials used are still very elegant and high-end with no cheap plastic in sight.
In the latest version of the Q7, which is part of the 2015 second generation that was then facelifted again in 2020, you can find many terrific standard features. From rear side airbags to standard ambient interior lighting and an upgraded tire pressure monitoring system, among other things.
The Audi Q7 may be a fairly large SUV, but it handles beautifully and with great agility on the road. It's powered by a 248-hp 2.0L 4-cylinder engine, or an available V6 3.0L unit paired with a 48-volt mild-hybrid system that delivers up to 335-hp. It's not the most fuel-efficient, even when armed with a mild hybrid system, but that's not why people buy the Q7.
On-road agility, a quality and spacious interior, plenty of seating, good amounts of storage, a digital cockpit, as well as large and user-friendly infotainment screens and great connectivity: these are all the things that people really care about when looking at the Q7.