Select Your Model Year...
Choose the appropriate model year for the BMW X1 you are trying to find the warning lights for from the list below.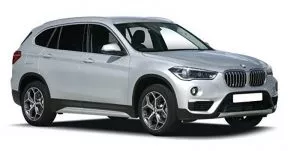 About the X1
This subcompact luxury crossover SUV made its first debut in 2009. Arguably short in length, it has a comfortable raised driving position.
The first generation was based on the E90 3-Series and originally came with rear-wheel-drive as standard. When it first came out the X1 was BMW's smallest sport utility vehicle (or SUV) and was a surprise hit amongst its customers. Appealing to a wider demographic than its larger counterparts, the X1 enjoyed great fuel efficiency meaning a lower cost to run. Its small chassis made it perfect for popping about the town and squeezing it into parking spaces.
The price range was fairly wide, due to the all-wheel-drive version being an optional extra. Previously to this, customers generally were forced to make the choice between paying extra for a large 4x4, or saving money and purchasing a small, cheap little hatchback.
The second generation switched to front-wheel-drive whilst keeping the all-wheel-drive an optional add-on. Costs were saved in the manufacturing process by BMW sharing the UKL2 platform with BMW 2 Series, Active Tourer and the Mini Countryman. There were two main variants on the model, the "long-wheelbase" and the "long-wheelbase with hybrid" (only available in China). The range featured both a turbocharged 3-cylinder petrol engine and a turbocharged 3 cylinder diesel.
The X1 has been manufactured in many countries, India, China, Russia and Germany, totalling 730,000 units globally. Its critics in the past have accused it of looking awkward and having poor handling capabilities due to its cumbersome bulk. This was more relevant for the first generation and this particular model was labelled 'rough and unrefined.'
In later models, the styling made it look more like a pumped-up estate car rather than a classic 4x4. It looks very similar to its sisters in the range, the X3 & X5, just with a shorter bonnet. Of these variations, they all have steel panels with aluminium bonnets to keep the vehicle as light as possible.