Toyota FJ Cruiser Warning Lights
---
Select Your Model Year...
Choose the appropriate model year for the Toyota FJ Cruiser you are trying to find the warning lights for from the list below.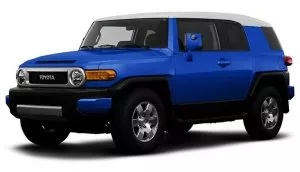 About the FJ Cruiser
If you own a Toyota FJ Cruiser, then you may have noticed some new warning lights that appeared on your dashboard.
These are important to pay attention to because they can inform you of problems before they get worse and cause more damage to the internal workings of your vehicle.
If you need help with identifying what these lights mean or would like advice on how best to proceed in fixing them then read on.
As a side note, the 4Runner and Land Cruiser Prado share the same mechanics and most of the same dashboard symbols as this model.
Common Warning Lights
Here are some of the most common warning lights that bring people to this page of explanations.
Check Engine Light
The check engine light is a warning light in your car which alerts you to an issue with the engine.
It usually indicates that there is a problem with the vehicle's emissions or that the vehicle has a burned-out or missing spark plug.
This warning can also indicate a problem in a part of the fuel system, such as in the fuel injectors, fuel lines, or evaporative emission system.
ABS Warning
The ABS warning light is designed to give you an indication that your vehicle's anti-lock braking systems are not working properly.
If there is a problem with the system it will come on constantly. If this is the case, please consult your manual or dealer.
If the vehicle is in 4x4 mode and the four-wheel-drive control system has failed, then the ABS warning light will be constantly lit up.
Again if this is the case, please consult your manual as it will list additional steps you are able to take.