Toyota Prado Warning Lights
---
Select Your Model Year...
Choose the appropriate model year for the Toyota Prado you are trying to find the warning lights for from the list below.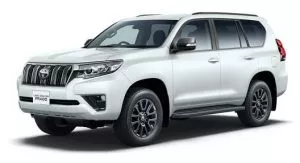 About the Prado
The Toyota Prado is a full-size four-wheel-drive vehicle in the Land Cruiser range (in most countries) and is one of the smaller models in the group. Typically referred to as the LC70, LC90, LC120 and the LC150 depending on the platform.
In North America, the Prado is not part of the Land Cruiser range but is replaced by the rebadged Lexus GX to highlight the difference in trim levels. The Lexus GX does keep the same side panels and V8 engine.
The Prado replaced the J70 brought out in 1984 which featured a shorter wheelbase with either soft or hard top versions. The first generation debuted in 1990 and featured electronic fuel injection engines with a four-speed transmission. Later, in 1993, the 2.4-liter turbocharged diesel engine was replaced by the 2.7-liter 3RZ-FE petrol engine.
The second generation came out in 1996, it showcased a notable make-over with a longer body but was still categorized as a medium-duty four-wheel drive. There were two main variants, three-door and five-door, the three doors were referred to as 'R' models (RZ, RX, RS and RJ) and the five doors were named TZ, TX, TS and TJ. When the Prado launched in the UK it replaced the 4Runner and was sold under the name Land Cruiser Colorado. The third generation saw a more modernized rounded chassis in 2002.
Toyota brought out the fourth generation in 2009, again with the two basic variants, 3-door and five with the latter offering more customizable options. The new Prado changes depending upon location, for example, in the UK the spare wheel is stored under the floor, but in Australia, it's attached to the back door to allow extra room for an auxiliary fuel tank.