GMC Savana Passenger Warning Lights
---
You can find 8 popular GMC Savana Passenger warning lights and symbols on this page that when clicked take you to a detailed description.
Symbols Index
(click for more information)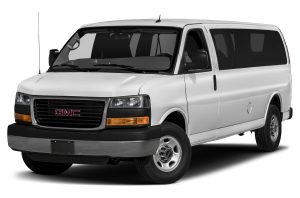 About the Savana Passenger
The GMC Savana has a lot of warning lights to tell you when something's going wrong.
An average driver might not know what all these symbols mean, but it is important that they do.
If any of the warning lights are on, it means there is an issue with the vehicle and needs to be looked at by a professional immediately.
On this page, we will go over each light and its meaning so drivers can understand them better.
Common Warnings
There are different warning lights that can display on your GMC Savana. Some of the most common ones are the ABS warning light, the low tire pressure warning light, and the airbag indicator light.
ABS stands for anti-lock braking system and when the light is on it means there's an issue with that.
The low tire pressure warning light tells drivers when a tire has been punctured or needs air, while the airbag indicator lets them know if a problem exists with the passenger restraint systems of their vehicle.
History of the Savana Passenger
The GMC Savana Passenger is a popular van that manages to be both luxurious and utilitarian at the same time.
It has all of the latest safety features, as well as ones for convenience. The seats are comfortable and spacious, making it easy to fit up to eight passengers, a big selling point for larger families.
GMC really thought about the design of this car when they made it, with one simple touch you can open or close your windows or turn on your side mirrors.
You also have access to two USB ports in case you need power for your smartphone while driving.
There's plenty of space inside with room for storage under the passenger seat and in between each row of seating-perfect for if you're traveling long distances with friends or family.