Ford Transit Warning Lights
---
Select Your Model Year...
Choose the appropriate model year for the Ford Transit you are trying to find the warning lights for from the list below.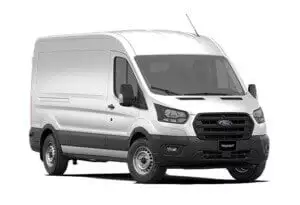 About the Transit
The Ford Transit really needs no introduction, everyone knows this vehicle, we see them every day working hard on the roads taking everything in their stride. That's not to say Ford hasn't changed it over the years, they have, and quite dramatically.
Technically it's classified as a 'light commercial vehicle.' Originating in 1965 it was primarily built to try and please everyone, and in most ways it did. The variations were fairly different, cargo transporter, passenger carrier, cutaway van chassis and even a pick-up truck version.
Ford gave these slightly less imaginative names, T-150, T-250 & T-350. To date there have been 8 million sold, making it the 3rd best-selling van of all time, just being eclipsed by the VW Transporter (as you'd expect) and the Vauxhall Vivaro (which perhaps you wouldn't).
The Ford transit was originally sold in Australia but its popularity saw it achieve global sales towards the end of the 20th century, finally replacing the Ford E Series in North America. There have been numerous facelifts here it's now on its official 4th generation.
Described as the 'backbone of Britain' in the popular advertising campaign, it's used by builders and Police alike. One of the main features that make this van popular is its engine configuration, the way it's set up makes top speeds easily achievable. Its comfortability and handling are what gave it the edge over its competition in earlier decades.
Ford entered its Supervan Transit into Le Mans 24-hour race where it won 4 times on the track. On the darker side, this van is easily the most popular amongst thieves, to date the Transit has been used in 95% of bank raids! With this in mind, you wouldn't be surprised to learn that it's also the most stollen van in the UK, for example, in 2015 6,000 transits were stolen.