GMC Sierra Warning Lights
---
You can find 8 popular GMC Sierra warning lights and symbols on this page that when clicked take you to a detailed description.
Symbols Index
(click for more information)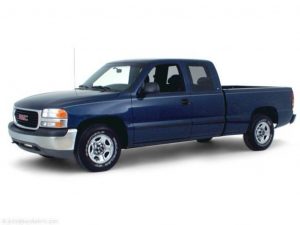 About the Sierra
The GMC Sierra is a great vehicle and you will want to keep it in tip-top shape.
It is almost 100% identical to the Chevrolet Colorado pickup truck and shares many of the same warning lights.
If there are any warning lights on your dashboard, you should be sure to take the car into the shop for an inspection.
This page will give you an overview of some of the most common warning lights that come on while driving and what they mean.
Common Warning Lights
The warning lights in the GMC Sierra often provide an indication that there is a problem with the vehicle. The information below describes some of the most common warning lights in the GMC Sierra.
Service light
If this light on your dashboard is illuminated, it indicates that your vehicle needs to be serviced or inspected.
Regular servicing of a car is paramount for keeping it running efficiently and ensuring that it lives a long life.
Low fuel level
This warning light on the dashboard of your GMC Sierra means that you need to refuel as soon as possible because not enough gas is left for a driving distance over 160 kilometers.
This of course would only be possible if you were driving at an optimal speed of 20 kilometers per hour.