GMC Terrain Warning Lights
---
You can find 8 popular GMC Terrain warning lights and symbols on this page that when clicked take you to a detailed description.
Symbols Index
(click for more information)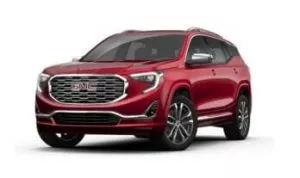 About the Terrain
One of the most important safety features on your GMC Terrain is the warning lights.
You will find a very similar set of warning lights in the Chevrolet Equinox as both models are virtually the same.
These will come into action if there is a problem with the vehicle and they work to warn you that something isn't right.
The warning lights can be found in various areas throughout your vehicle, depending on what type of system it has.
Primarily they are located in front of the driver in the dashboard, at least the most important ones are.
Knowing how these work and where they are located can help you to avoid any potential problems when driving or parking.
Common Warnings
The five most common warning lights you can expect to see in your Terrain are:
Brake Warning Light
This light is activated when there is a problem with the brake fluid or any of the components that are used within the braking system.
Low Fuel Warning Light
This light will activate when the fuel level in the vehicle reaches an unsafe level and the car advises you to fill it up.
Oil Pressure Light
When this light comes on, it means that your engine oil pressure is below normal levels and that you should get your engine checked immediately.
Over Speed Indicator
This light will come on if you are going over the speed limit and should be taken as a warning sign to slow down and drive responsibly.
Many of the GMC Terrain models were fitted with this warning system to help ensure new drivers who are unaware of the car's capabilities.