Select Your Model Year...
Choose the appropriate model year for the Volvo V50 you are trying to find the warning lights for from the list below.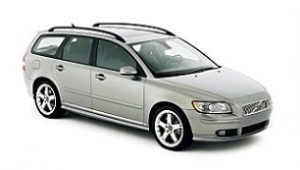 About the V50
The V50 is the station wagon version of the V40, both of which are built by the Swedish automaker Volvo.
A small family car, the V50 was unveiled at the Bologna Motor Show in 2003 and went into production the following year at the Ghent assembly plant in Belgium.
Built upon the Ford C1 platform along with the Ford Focus and Mazda 3, the V50 had a number of unique features like the inside theatre light and the floating center stack.
Volvo's intelligent vehicle architecture allowed for greater space and a faster reduction of emissions. Installing the in-line 6-cylinder engine meant that Volvo could maximize space further, this configuration meant that the engine had one warm side and one cool. Using the former to face toward the interior meant that the opposite side created a short flow of exhaust fumes to the catalytic converter, therefore, lowering emissions.
Another version of the V50, the T5 AWD had a straight-5 2.5-liter petrol engine with all-wheel drive capabilities and variable camshaft timing.
Only the diesel version of this car was sold within Europe, and by 2008, the car had been given a new facelift. Changes were made to the front styling, interior, audio system and increased power. At the front, Volvo had enlarged the logo, creating a rounded noticeable badge that sat neatly in the front grille (previously it had been smaller and squared off).
Volvo made the decision to discontinue the V50 in the USA and Canada in 2011 along with the S40. The reasons cited were the car's inability to attract American buyers with annually drastically decreasing sales figures. Looking at reviews, the V50 was praised for the quality of the build but ultimately the small load bay, small rear passenger space and dated appearance sealed its fate.