Select Your Model Year...
Choose the appropriate model year for the Volvo V60 you are trying to find the warning lights for from the list below.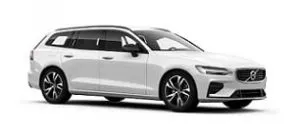 About the V60
A compact wagon, the V60 debuted in 2010 and was built upon Volvo's Scalable Product Architecture Platform.
The first generation lasted 7 years from 2011 to 2018 and brought with it a number of special edition vehicles with it. One of which was the Ocean Race, a V60 with alloy wheels, a specially designed cargo cover and an ocean blue body color.
Another variant was the Polestar V60, a revised vehicle built in conjunction with Polestar who retuned the engine and gave the V60 a suspension upgrade.
A V60 Plug in Hybrid could also be purchased from 2011 after its debut at the Geneva Motor Show. In terms of hybrid and electric vehicles, this V60 was fairly reasonable, starting at approximately £40,000.
A result of the efforts of both Volvo and the Swedish energy company Vattenfall, the V60 Plug-in hybrid had a 6-speed automatic gearbox with front wheel drive and a 5-cylinder 2.4-liter D5 turbo diesel engine. Sold in Sweden from 2012 onward, and the UK a year later in 2013, the driver could select which mode this car would run in, fully electric, a combination of both electric and diesel or purely diesel, the modes for these were Pure mode, Hybrid and Power respectfully.
By 2013, the Volvo V60 PHEV was the 2nd best-selling plug-in hybrid in Europe, beaten only by Mitsubishi Outlander P-HEV. In addition to this, the V60 PHEV was one of the top three finalists for the 'World Green Car of the Year.'
Volvo released a Cross Country version of the V60 which had a higher riding height and all-wheel drive; and was sold exclusively in Northern America and Europe.
By 2018, the second generation had been released solely as the Cross Country version, now built upon the Volvo SPA Platform alongside numerous Volvos such as the S60, S90, XC60 and XC90 this vehicle was built in Sweden and Belgium. Only one powertrain was available in America, but for the European market, there were 2 petrol and 2 diesel versions.