Select Your Model Year...
Choose the appropriate model year for the Volvo V40 you are trying to find the warning lights for from the list below.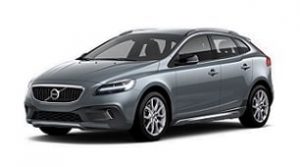 About the V40
A small family car, the V40 existed between the years 2012 and 2019 and was created by the Swedish car manufacturer Volvo.
Unveiled at the Geneva Motor Show, the V40 sold the both UK and European markets. Designed by Chris Benjamin, and American designer who currently holds the position of Vice president of Interior Design at Stellantis, the V40 used the Global C Platform along with the Ford Focus, Ford C-Max and the Grand C-Max.
Two petrol engines were available, the 1.6-liter EcoBoost I4 150 bhp & 180 bhp, and the 2.5-liter 254 bhp, along with two diesel variants. Following the strong reputation of Volvo for its incredibly safe cars, the V40 didn't disappoint. A new system 'IntelliSafe,' allows for a collision warning which can engage the brakes automatically upon sensing a potential collision. The car can also sense pedestrians as well as other vehicles on the road and apply the same process. In addition to the automatic braking, the V40 can apply tension to the seat belts, keeping the passengers snugly in place.
The Volvo V40 could be bought as a Cross Country version, these vehicles were more substantial, with reinforced protective body panels, larger wheels than the standard V40s, sizeable tires and an overall taller ride height. Hill decent control was added to these Cross Country models, a system that can continue to control the speed even upon a decent; the brakes are applied sporadically to ensure a maintained speed.
2016 saw a facelift, with the addition of Volvo's signature 'Thor Hammer Headlights' which also appear on the XC9011, S9011 and the V9011.
The V40 won a number of awards throughout its production, namely 'best executive hatchback,' 'Scottish car of the year,' and 'Best medium family car' by carsite.co.uk.