Select Your Model Year...
Choose the appropriate model year for the Volvo S40 you are trying to find the warning lights for from the list below.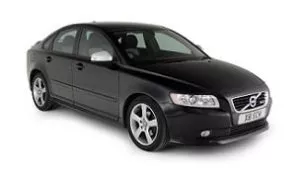 About the S40
Production started on the S40 in 1995 by the Swedish car manufacturer Volvo. Interestingly, in Latin 'Volvo' means 'I Roll,' a name chosen by its founders Assar Gabrielsson and Gustaf Larsson in 1927.
Their mission statement was to create a vehicle that championed safety and quality, sentiments that carry right through to today's models where Volvos are notorious for their safeness making them perfect family cars.
The V40 replaced the S40 in 2012 allowing for just two generations of this vehicle.
Originally Volvo wanted to call the executive car S4 (subcompact) and F4 (compact), but as Audi had already reserved the moniker 'S4' Volvo changed the saloon to 'S40,' and the estate version was renamed 'V40.' Peter Horbury, a Netherlands native, designed the car around the key safety features and started production at the Nedcar Factory in Horbury's home country. Engines available were a 4-cylinder engine with either a 1.9 turbo diesel or gasoline variants; 1.6-liter, 1.8-liter and 2-liter.
England, Scotland, Wales and Northern Ireland had their own trim levels, named S, XS, SE and CD, with the addition of the limited 'Xi' which could be purchased in 'bumblebee' colors, yellow with black bezel headlamps.
The second generation was built upon the Volvo P1 Platform, where the estate version was removed from the line and replaced with their larger model, the V50.
Winning impressive awards, 'World car of the year' and Canada's 'Car of the Year,' the S40 shared the same mechanics with the Mazda 3 and Ford Focus.
Many marketing campaigns were launched to boost sales, the most memorable was a documentary-style short film called the 'Mystery of Dalaro.'
A facelift in 2007 saw improvements made to the audio and sound system, greater storage capacity and yet more safety measures like the emergency brake light and numerous blind spot cameras.