Select Your Model Year...
Choose the appropriate model year for the Volvo S80 you are trying to find the warning lights for from the list below.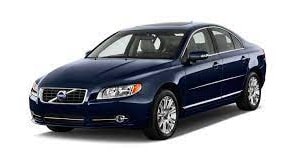 About the S80
An executive vehicle produced by the Swedish car manufacturer Volvo, the S80 spanned three decades from 1998 to 2016 and replaced the original flagship S90.
The first generation of S80 was styled on the Volvo concept car 'ECC' which was built upon the Volvo P2 Platform. In total, 368,000 vehicles were built between 1998 and 2006 with side impact protection systems installed along with whiplash protection, cementing Volvo's reputation as a safe vehicle. Due to the large straight-6 engine, Volvo could not fit a standard manual gearbox and so as a solution, they built their own called the M65.
2006 saw the second generation of S80s, first shown at the Geneva Motor Show, the engines were now either 3.2-liter straight 6 or a 4.4-liter V8 with optional 4-wheel drive.
In 2007, the S80 was awarded the 'Top Safety Pick' by the IIHS. Changing to the Ford EUCD platform, shared with the S-Max, third generation Mondeo and Galaxy, the S80 had adaptive cruise control, collision avoidance and automatic braking. A system was installed so that the vehicle could detect the difference between normal braking and emergency, and in an emergency, the brake lights would flash rapidly, to mimic hazard lights. In addition to these safety measures, Volvo installed blind spot cameras and lane departure warning, both of which could be activated from 40 mph.
A plethora of extras had been added by the 2016 models, these included heated seats, an interior air quality system, an electric retractable glass sunroof and a wooden steering wheel.
A special longer version of the S80 was adopted by companies to use for things like hearses, ambulances and limousines.
Ultimately, the S80 was replaced by the newer S90 which was showcased at the Detroit Motor Show.