Toyota Prius Warning Lights
---
Select Your Model Year...
Choose the appropriate model year for the Toyota Prius you are trying to find the warning lights for from the list below.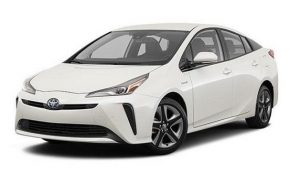 About the Prius
Initially, after its release in 1997, the Prius was offered as a 4-door subcompact sedan.
In 2003 the model moved into its second generation and was offered as a compact 5-door hatchback only.
For both of these generations, the Prius has been built on the MC platform, which during its lifetime was used under the Corolla and Matrix too.
Afterward, during its move to the third generation, the car was moved onto the "New MC Platform" which was used across not only Toyota models but now Lexus ones too.
This third-generation Prius was launched in 2009 and not only was it more aerodynamic but also more environmentally friendly being constructed with an increasing number of natural materials.
In 2016 the car was moved onto a new platform once again, the more generic TNGA: GA-C - the same smaller chassis under the C-HR and the Lexus UX.
This lighter chassis along with improvements to the aerodynamics of the body once again led to an even better fuel economy.
When the Prius debuted during the later part of the 1990s it was seen as the first mainstream hybrid car.
Honda did attempt their own line around the same time but failed to garner the attention and reputation that Toyota won with this line.
Celebrities and journalists quickly adopted the car thanks to its amazing fuel economy provided by the mild-hybrid energy capturing technology onboard - leading to further free publicity for the Prius.
Unfortunately with all of those new features built into the car a new range of warning lights had the ability to present themselves to the driver.
Understanding the meaning of these Prius dashboard symbols can be difficult as they aren't always easy to identify at first.
With the guide on this page, you can cross-reference them with our explanations after finding them in our visual guide.