Toyota Prius Warning Lights
---
You can find 8 popular Toyota Prius warning lights and symbols on this page that when clicked take you to a detailed description.
Symbols Index
(click for more information)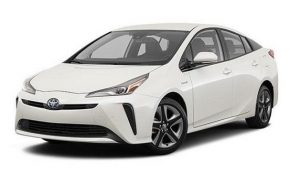 About the Prius
Did you know that there are more than eight warning lights on your Toyota Prius dashboard?
These lights can give you a lot of information about what is going on with your vehicle.
Most warning lights will tell you if something is wrong, but some simply let you know when to refuel the car or change the oil.
The key thing to remember is that these dashboard symbols should never be ignored.
On this page, we'll take a deep dive into understanding the Prius warnings and what you need to do when you see one or more.
Common Warnings
On the Toyota Prius Hybrid, there are a few different warning lights that may be displayed.
The most common light that you will probably see often is the low fuel light. This light will appear when less than a quarter tank of fuel is remaining.
When this light is on, it means that you should refuel as soon as possible. Unless all power sources are depleted, this light should not turn off if you have enough fuel to continue driving for an extended period of time.
The next common warning light is the "check engine" light. This will activate if there are any active faults with your vehicle's emissions equipment, which could lead to incomplete combustion and reduced fuel economy and performance.
History of the Prius
This Toyota Prius was first introduced in 1997 in Japan and has since become one of the world's most popular hybrid cars.
The Prius is a practical car for both environmental and economic reasons.
If you drive a lot and often find yourself stuck in traffic, the Prius will get you there on less gas than a normal car, saving you money and helping to protect the environment.
You can find the MC platform that the Prius is built on at work under other models from the same Japanese automaker such as the Corolla and Avensis.