Toyota 4Runner Warning Lights
---
You can find 28 popular Toyota 4Runner warning lights and symbols on this page that when clicked take you to a detailed description.
Symbols Index
(click for more information)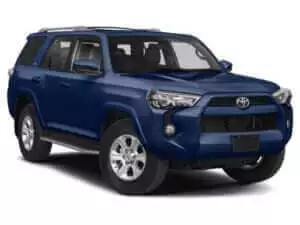 About the 4Runner
Driving a Toyota 4Runner can be a lot of fun. However, there are some warning lights that you need to learn about in order to ensure that your car is running smoothly and safely.
On this page, we will go over the meanings of these warning lights so that you don't have to worry about learning them while driving.
In recent years the 4Runner shares its platform with the Tacoma, FJ Cruiser and the Land Cruiser Prado.
Common Warning Lights
Some of the warnings you see in the 4Runner will appear more often than others, these are the most popular ones:
ABS Warning
The ABS (Anti-Lock Brake System) Light comes on when there is an issue with the brakes, which prevents them from locking up in order to prevent the wheels skidding.
This inhibits you from braking quickly since your wheels will always be in contact with the ground. When driving in slippery conditions, this light should go off after 10-15 seconds if it is simply caused by water or ice.
Low Fuel
The low fuel warning light will start to appear when your tank reaches a certain level (usually less than 25% full). If you let the red light come on, you'll need to refuel ASAP to avoid being stranded at the side of the road.