Select Your Model Year...
Choose the appropriate model year for the Lexus GX you are trying to find the warning lights for from the list below.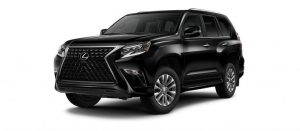 About the GX
The Lexus GX is like the swiss army knife of midsize SUVs. It can carry you and six other family members comfortably during family road trips and deliver no-nonsense off-road capability when you need to reach remote, off-the-grid locations. It is also a solid cargo hauler and a highly capable tower. GX 470 (2003-2009) and GX 460 (2009-present) models benefit from proven, old-school body-on-frame construction, excellent build quality, and a sufficiently potent V6 or V8 engine, depending on the market. This recipe has made it one of the most dependable premium midsize SUVs.
This GX compares closely with the Mercedes Benz GLE and Volvo XC90 in pricing. Both options are superior in terms of performance, refinement, and equipment options, but the GX has them beat in the capability department thanks to its truck-based construction.
According to CarComplaints.com, the 2006 GX had the most overall complaints of the GX 470 generation. Many of them were related to secondary air injection failure – a problem that caused the vehicle's 'check engine' warning light to come on. The 2003 Lexus GX models with over 77,000 miles were also reported to make clunking noises after stopping and restarting.
The current GX 460 has also had several reported problems, but not as many. One of the problems noted mostly in high mileage 2010, 2013, 2014, and 2016 GX 460 models is the involuntary activation of the ABS while driving. It makes it more difficult to control the vehicle. The 'BRAKE' or 'ABS' warning lights come on in such situations.
The Lexus 460's warning lights haven't changed much over its 12-plus year run; they are easy to understand. Thankfully, because of the GX's high dependability, you won't see them come on often.