Hyundai Tucson Warning Lights
---
Select Your Model Year...
Choose the appropriate model year for the Hyundai Tucson you are trying to find the warning lights for from the list below.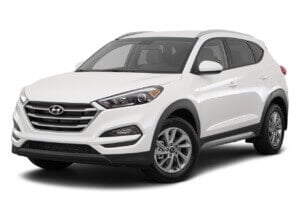 About the Tucson
The Hyundai Tucson is a family SUV, that owes its name to the city of Tucson, which was famous for housing gunslingers in movies and real life. It attempts to stand out in a highly competitive market, with features such as a hybrid mode, but fails to keep up with its competitors in several key areas.
Under the hood, the Tucson is fitted with a number of turbocharged petrol engines. The entry-level model produces 148 horsepower and a 261-horsepower engine at the top of the range.
These engines are plug-in hybrids too, allowing drivers to drive in an all-electric as well as a dual-engine mode. The best engine in the lineup will accelerate from 0-60 in around 7 seconds, which outmatches its rivals from Kia and Ford.
Unfortunately, the Tucson's ride is very unforgiving. You'll be able to feel pretty much every pothole in the road, and the car may even seem jittery on motorways. So, if you're looking for a comfortable SUV, you might want to look elsewhere.
Inside the cabin, this Hyundai SUV is very solid. The materials don't feel luxurious, but they don't feel cheap either. Everything feels pretty sturdy, and there's something stylish about the simplicity of the interior. Couple this with excellent boot space and driver visibility, and it's pretty hard to fault the SUVs interior.
As for infotainment, the Hyundai Tucson comes equipped with a 10.3-inch touchscreen. This touchscreen is overall very solid, with excellent response times and sharp graphics. It does fall short of its competition though. So, if you're looking for the latest tech, you may want to consider the Volkswagen Tiguan.
The Tucson is not free of common problems. Some of these include transmission hesitation, which can make the ride even more uncomfortable and lurching when breaking.