Mazda CX-5 Warning Lights
---
You can find 29 popular Mazda CX-5 warning lights and symbols on this page that when clicked take you to a detailed description.
Symbols Index
(click for more information)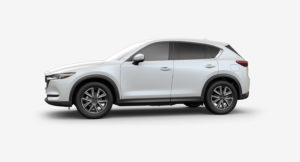 About the CX-5
The Mazda CX-5 was the replacement for the utilitarian Tribute SUV line that lacked the excitement of the rest of the company's range.
The SUV is built on the same platform as the Mazda3 and Mazda6 cars and shares a lot of the same technology across them.
Engine choices across this platform were geared more towards fuel economy and so the engines aren't the big gas guzzlers you would expect with an SUV.
The compact crossover SUV CX-5 was a big hit with customers and critics with the car receiving many awards.
The level of technology included with this car and its sister models have always been pretty cutting edge with backup cameras and LED headlights being included as standard on newer examples.
The abundance of modern technology has led the Mazda CX-5 to include many new warning lights that may confuse the driver who is used to traditional internal combustion engine vehicles.
The sales have always been fantastic for this car ever since it became available to customers in 2012 with a burst after the release of the second generation.