Chrysler 200 Warning Lights
---
You can find 32 popular Chrysler 200 warning lights and symbols on this page that when clicked take you to a detailed description.
Symbols Index
(click for more information)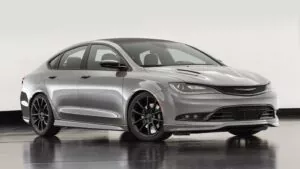 About the 200
The Chrysler 200 saw 2 generations of design across the 6 years it was in production between 2011 and 2017.
It was styled as the smaller brother of the 300 which proved a popular sale around the world despite its terrible interior letting it down.
Sales were always pretty good for the 200 and surpassed the 300 for a lot of the time but were killed off shortly after the release of the second generation as sales slid.
Engine choices were the same through the life of the car with the choice of a sensible inline 2.4 liter or 3.6 liter V6 for a more interesting ride.
Safety ratings and performance of the car were much better in the later models than the original but this did nothing to calm the slide in sales.
All trims of the 200 featured high-tech infotainment systems to appeal to a younger market with the help of their Super Bowl ad featuring Eminem.