Chrysler PT Cruiser Warning Lights
---
Select Your Model Year...
Choose the appropriate model year for the Chrysler PT Cruiser you are trying to find the warning lights for from the list below.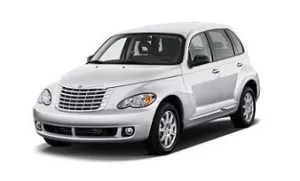 About the PT Cruiser
The PT Cruiser was Chrysler's nostalgic compact car, launched for the 2001 model year and based on the design trends of the 1930s and 1940s.
It was very much loved by some and hated by others - building up a cult following during a period when many other automakers were launching models for this trend.
You could find many models like this such as the Mini Cooper from BMW and the New Beetle launched by Volkswagen.
Underneath this compact car was the PT Platform that was shared among other Chrysler brand lines such as the Dodge Neon and the Dodge SRT4.
Models for the US market were manufactured in Mexico and for European markets, they were assembled in Austria.
In 2006 the PT Cruiser was updated to include an improved design and new features inside such as MP3 playback capability.
Many special editions were introduced by Chrysler that played off the nostalgia element, some also adding performance parts and alloy wheels.
A commercial van style model of the PT Cruiser called the "Panel Cruiser" was exhibited too.
This Panel Cruiser had a wooden floor in the rear instead of seating to show off where the inspiration came from for the design.
Chrysler didn't replace the model internally, instead, parent company Fiat concentrated on its own line - the 500L.