Chrysler Voyager Warning Lights
---
You can find 32 popular Chrysler Voyager warning lights and symbols on this page that when clicked take you to a detailed description.
Symbols Index
(click for more information)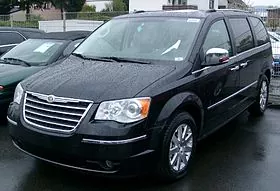 About the Voyager
The original Chrysler Voyager model was released in the late 1980s as a simple front-wheel-drive minivan.
Customers had the choice of a range of engines and transmissions in manual or automatic.
As the decades and generation passed by the range gained new comfort features, more engine options and a larger fuel tank.
The second-generation Voyager that began production in the early 1990s gained an option for a four-wheel-drive layout.
Safety was a negative point for the model and the minivan scored pretty badly until the fifth generation in 2008.
Designers focused on what should have been an important factor for a family-focused car and brought the safety rating up to a 4 out of 5 stars.
Production has been primarily in the USA with some assembly taking place in Europe during the 2000s when the model was sold there.
The most recent generation of the Chrysler Voyager that became available in 2020 is a budget trim of the Chrysler Pacifica.
Customers are limited to a 3.6-liter gasoline V6 mated to a 9-speed automatic transmission powering the front wheels only.
These Voyager trim's of the Pacifica are only made in Canada and sold to North American region customers.