Chevrolet Sonic Warning Lights
---
Select Your Model Year...
Choose the appropriate model year for the Chevrolet Sonic you are trying to find the warning lights for from the list below.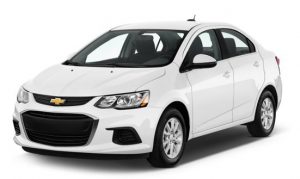 About the Sonic
The Chevrolet Sonic is a subcompact car produced by the American automaker and sold around the world primarily as the Aveo.
In North America, you will find the model marketed as the Sonic from the second generation onward.
It started life as a project within Daewoo Motors but during their bankruptcy in 1999 General Motors took over the company and the development.
The Aveo went into production in 2002 and was sold to markets in Asia and Europe.
It wasn't until the second generation that the model would then be sold in the USA with Chevrolet ensuring it had the premium features available for it to sell there.
In 2012 it entered the North American market as the Sonic, you could also find it on sale in Australia as the Holden Barina for a short time too.
A subcompact crossover SUV was launched in 2013 that used the same Gamma II platform as this model that is marketed as the Trax.
Then in 2017, the model was also introduced into the Mexican market after receiving a facelift for the 2016 model year.
Aveo and Sonic Warning Lights
In the event that you see a warning light appear on your Sonic or Aveo dashboard, it is best to pull over somewhere safe and shut off the engine.
Most of these dashboard symbols won't cause any immediate damage, but chances are there's something going on with your car that needs attention.
Sometimes they can be easily fixed yourself by doing some research online or looking in the owner's manual.
Some of the most common warning lights to appear in the Sonic are:
Check engine light: This signal is a message from your car's onboard computer, reporting that there may be something wrong with the vehicle.
The most common reasons for this are an improperly installed part or a malfunctioning sensor somewhere under the car.
If you see this light it might be time to schedule a check-up with a trained Chevrolet mechanic.
Oil light: This is a warning that your engine oil level is low.
This can be due to an issue with the car, like leaking gaskets or holes in the crankcase for example.
If you see this it's important not to drive longer than absolutely necessary before getting it checked out by someone knowledgeable about Chevrolet Sonic/Aveo maintenance.