Select Your Model Year...
Choose the appropriate model year for the Volvo V70 you are trying to find the warning lights for from the list below.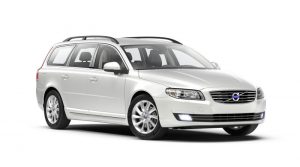 About the V70
The Volvo V70 came onto the market in 1996 as a 5-door executive estate. Despite being an estate, it boasts Volvo's signature styling and luxury feel.
There has also been a cross-country variant of the V70, named the XC70. As with Volvo's naming convention, the V stands for versatility, while the XC obviously stands for cross-country.
Other than the XC variant, there has also been the V70 R, a sports version of the executive.
Like most of the models from the Swedish company, the V70 faces competition from its German counterparts - namely the Audi A6 Avant, BMW 5-Series Touring, and the Mercedes E-Class Estate.
The V70 has seen three generations during its 20 years on the market. The first generation came about in 1996 on the P80 platform.
The second generation was then introduced in early 2000 on the P2 platform. The second was finally succeeded by the third generation in 2008.
Despite the three generations, the V70 consistently featured its signature Volvo styling and safety. Engines ranged from 2.0-liter to 3.2-liter gasoline and 1.6-liter to 2.5-liter turbodiesel.
Although the three iterations of the V70 shared similar engine sizes, only the first and second generations shared the 5-cylinder layout. Thereafter, the third generation boasted the option for 4-, 5-, or 6-cylinder configurations.
Another common feature amongst all three generations was the options for front-wheel or all-wheel-drive models.
The third generation also saw the debut of the plug-in hybrid engine format. However, this never came to the commercial market, instead of becoming available in the smaller Volvo V60 PIH in 2012.
The V70 ended production in 2016 when the Volvo V90 Cross Country became the company's only wagon offering. Since then the V90 has taken center state as Volvo's flagship model.