Ford Mondeo Warning Lights
---
Select Your Model Year...
Choose the appropriate model year for the Ford Mondeo you are trying to find the warning lights for from the list below.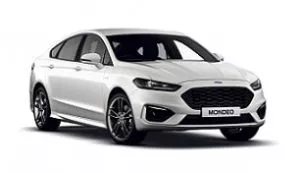 About the Mondeo
Ford's first 'world car,' the Mondeo is a large family car designed to combine and replace two of the companies aging models, the Sierra and Telstar.
Built upon a number of combined platforms, the Mondeo was sold from 1993 onwards. Mainly front-wheel drive, except for the MK1 which was also offered as a four-wheel drive, Ford used the CDW27 platform for its first generation - which can also be found under the Jaguar X-Type.
In 2000, the second generation began production with a larger but otherwise fairly unchanged chassis. Ford had worked hard on upgrading the interior, using more expensive materials and external features.
Whilst keeping the same structure, they exchanged the rounded American aesthetic for a more German, angular design. These were available in a saloon, liftback and estate.
2006 saw the third generation ushered in. Built on the new EUCD platform, Ford introduced the Mondeo to the Australian market after a 6-year hiatus. The new Mondeo was fitted with an EcoBoost engine and LED daytime running lights.
During the 2012 North American International Auto Show, Detroit saw the fourth generation Mondeo (although sold as the Ford Fusion in America). This variation was similar to its predecessors in styling but no longer had the 5/6 cylinder engines. The most recent Mondeos were sold towards the end of the Covid pandemic in 2022, and only for the Chinese market. China still favors the saloon-style large family car whereas elsewhere, crossovers have begun to dominate this division.
During its lifetime, the Mondeo enjoyed a number of accolades and awards. In 2007 (the third generation), Top Gear went as far as to award it the 'Family car' of that year, applauding its practicality, comfort and engine variations.