Mazda CX-30 Warning Lights
---
Select Your Model Year...
Choose the appropriate model year for the Mazda CX-30 you are trying to find the warning lights for from the list below.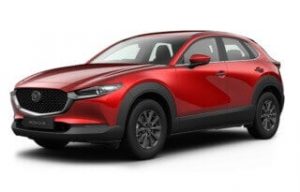 About the CX-30
If you are driving a Mazda CX-30, then you need to know what the warning lights mean.
The dashboard of your Mazda CX-30 is full of useful information, but it can also be confusing.
This CX-30 slots between (in terms of size) the CX-3 and the CX-5 for markets outside of China where they sell a model called the CX-4.
Here are some explanations for the most common warning lights that will help you get on the road again if they happen to go off while driving.
Airbag Warning Light
If you see the airbag warning light, then it means that your airbag system is faulty.
You should get this checked by a professional immediately to prevent further damage and injuries while driving.
Brake Warning
The Brake Warning Light turns on when there is an issue with one of your vehicle's braking components or systems.
It could mean something as simple as a loose brake pad, or it could be an issue with the anti-lock braking system.
Fuel Warning Light
If your fuel warning light comes on while you are driving, then there is probably no need to panic.
The most likely cause of this problem is that you have not put enough fuel in the car and need to top it off ASAP.