Select Your Model Year...
Choose the appropriate model year for the Kia Soul you are trying to find the warning lights for from the list below.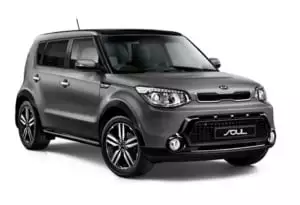 About the Soul
The Kia Soul is an electric SUV that has taken the market by storm. It matches up to its rivals from big companies like VW and has some of the best stats for an electric SUV. For instance, its range is over 250 miles and features great acceleration and practicality.
Under the hood, the Soul is fitted with a 64kWh battery, which will last 280 miles and produces an impressive 201 horsepower. This horsepower allows the Soul to accelerate from 0-60 miles in just under 8 seconds, which is better than pretty much all of its competition.
Thanks to the electric motor, the Soul is a dream to drive. You won't hear any noise in the cabin until you reach at least 70 miles per hour, making the Soul one of the most relaxing cars on the market. Furthermore, the suspension is soft, meaning that you'll hardly feel even the biggest bumps. Couple this with an excellent braking system, which can be hard to find on an electric vehicle, and the Soul is easily one of the best electric cars that you can drive.
The story only gets better inside the cabin. Drivers will be pleased to see a 7-inch infotainment system that offers great connectivity and is incredibly easy to use. The interior is made from sturdy materials, making the Soul perfect for families. There's also plenty of room for passengers and luggage, so if you frequently have a lot to carry, the Kia Soul will be able to cope.
The Kia Soul scored an overall safety rating of four stars with EuroNCAP, which is just as good as its competition. So, if you're looking for a family car, or are generally concerned with safety, the Kia Soul may be perfect for you.
Hyundai also produces a very similar model that shares much of the same technology and warning lights called the Venue.
The Kia Soul is ultimately one of the most well-rounded electric SUVs on the market. No matter what the task, the Soul will be able to cope.